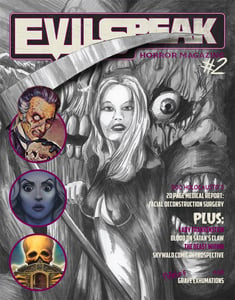 $

14.00
ISSUE 2 NOW AVAILABLE!
Evilspeak issue 2 Mission Statement:
First of all, we would like to thank and show our appreciation to those who have supported us and helped spread the word of Evilspeak. We feel that we owe a mission statement on behalf of issue 2 and explain not only what is entailed in the pages, but to remind you that just like issue 1, absolutely NO paid ads are featured in this magazine. We stick by our motto of 0% filler, 100% KILLER! We have worked our asses off to create a TRULY independent horror magazine that is all about celebrating the love of the genre and nothing more! We also want to share with you that we went even more pro with this issue and upped the game in quality. This issue is a 108 page professionally offset printed magazine with even more color this time on the front and inside covers (front and back).
Issue 2 is a true labor of love that was 6 months in the making, and is chock full of so many great features that we don't know how to pick the best of the best, so we're going to have a beefy list for you, so here we go: Lady Frankenstein, Night of the Werewolf, The Beast Within, a 20-page medical report styled write-up on Facial Deconstruction Surgery in movies, Skywald Comics, Disciple of Death, Video Vixen: A Mom and Pop Video Store Retrospect, Jean Rollin's Fascination as well as an article on starlet Brigitte Lahaie, Six Degrees of Dr. AC (Connecting these movies in one meaty feature: Death Line aka Raw Meat, Dead & Buried, Frankenhooker, Let's Scare Jessica To Death, Nightmares, Blood Beach), Blood Ceremony aka The Female Butcher, Twins of Evil, Buio Omega and a review of GOBLIN's soundtrack, Rockrypt Vol. 2: Hard Rock Zombies & Killer Party, Slash N' Burn – Horror in Sword and Sorcery: Conquest & The Sword and the Sorcerer, Joe D'Amato Tribute hailing his movies including Death Smiled At Murder and Absurd, Dawn of the Mummy, Blood on Satan's Claw, Devil's Wedding Night, Vampyres, Alucarda, AND MORE!
This issue also includes the debut of underground gore artist Matt Putrid's very own column for Evilspeak, GRAVE EXHUMATIONS! A four page hand written/drawn feature that is full of sleazy, splatter insanity! Putrid dives into the horrific world of two underrated 80's horror gems: The Kiss and Mausoleum!
Artists who contributed original art for this issue are Don England (who did our cover once again, but this time it's a WRAP AROUND!), Putrid, Reuben Splatterbeast, Shagrat, and more! Justin Stubbs once again provided an amazing job on our layout.