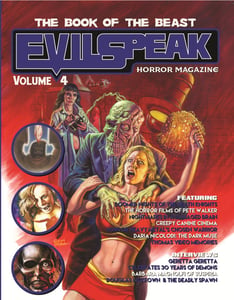 $

16.00
**Please note, I am currently on vacation until early November 2023. The Evilspeak store is closed for now, but you can still order this item from Amazon. Scroll down below to find the Amazon store that is specific to your country. Thanks!
Evilspeak Magazine returns from its morbid slumber to unleash hell on earth with our biggest and most ghastly issue ever, Volume 4! 211 pages of pure horror worship written by some of the most passionate and dedicated fans of the genre today. We dive right in with a MASSIVE (22 pages!) and most in-depth feature ever on the Blind Dead films by Doc Holocausto, who also conjures up a killer article on two amazing early 80's sci-fi splatter features (Xtro and Galaxy of Terror)! Volume 4 also features tons of features on bloody classics such as Werewolf Woman, Graduation Day, The Loreley's Grasp, Satan's Children, Messiah of Evil, Don't Go in the House, Cheerleader Camp, Hello Mary Lou Prom Night 2, Frankenstein '80, The Dorm that Dripped Blood, The Antichrist, Night of the Howling Beast, Reincarnation of Isabel, Trick or Treat, Class of Nuke 'em High, Rabid, The Witchmaker, and so much more! We also feature in-depth interviews with Geretta Geretta from Demons and many other classic Italian horror gems, Barbara Magnolfi from Suspiria, and director Douglas McKeown of The Deadly Spawn! Volume 4 also features an amazing 6 page horror comic story inspired by the Blind Dead films from the 70's drawn by horror artist Don England, a retrospect on Thomas Video (the first video store in America that recently went out of business), an in-depth feature on evil and violent canine films from the 70's, and so much more gore and carnage that you have never seen before! This book is loaded with some amazing fan artwork drawn by our writers and die hard fans of horror that you will never see in any other horror mags today. Jump into the fires of EVILSPEAK Volume 4 now and scream bloody gore with incredible full color hand painted cover art by the legendary Ed Repka (artist for Megadeth, Mars Attacks, and tons of other 80's metal bands and horror magazines!).
USA orders: Due to the size of the book, orders for one copy in the states are shipped in a flat rate PRIORITY MAIL envelope!
NON-USA:
I recommend ordering the book directly from the Amazon store related to your country as I'm no longer shipping books overseas due to tons of delays, problems, etc. See below for all the different countries offered.
USA
amazon.com/dp/1517090512
CANADA
amazon.ca/dp/1517090512
UK
amazon.co.uk/dp/1517090512
GERMANY
amazon.de/dp/1517090512
FRANCE
amazon.fr/dp/1517090512
SPAIN
amazon.es/dp/1517090512
ITALY
amazon.it/dp/1517090512
NETHERLANDS
amazon.nl/dp/1517090512
POLAND
amazon.pl/dp/1517090512
SWEDEN
amazon.se/dp/1517090512
JAPAN
amazon.co.jp/dp/1517090512
AUSTRALIA
amazon.com.au/dp/1517090512