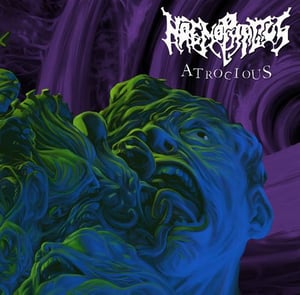 $

8.00
HAEMOPHAGUS "Atrocious" CD OUT NOW from Razorback Recordings! The 2nd full-length album from Italy's best ultra splatter-DEATH/GRIND HORROR GORE METAL band! This 13 song monstrosity features some of the catchiest riffs and song writing, deranged ravenous vocals, a battery assault of drumming, and a great mixture of all true metal styles. "Atrocious" is THE Death/Grind album that gorehounds have been STARVING for! HAEMOPHAGUS has been around for almost 10 years now, having released a ton of EP's and playing tons of shows all over Europe. A new personal standard has been set by the band on this new album. Try to imagine a mix of Repulsion, Terrorizer, early-Carcass, along with early-Slayer, Voivod, and Deceased! There is truly no band around today that sounds like HAEMOPHAGUS!
This ghastly-grotesque masterpiece is now ready for ordering from Razorback, the label that has been bringing you high quality horror-metal for close to 20 years now!
Media mail shipping in the USA only.