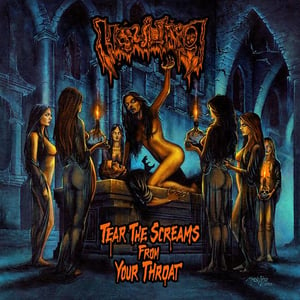 $

10.00
Out now on Razorback Recordings! HOWLING returns from the murky swamps to deliver a special release filled with their pure Horror-Metal sound! "Tear The Screams From Your Throat" is 30 minutes of total destruction filled with the catchy, infectious thrash-laden riffs and guitar solos you loved from the first album, along with the deadly and blood-thirsty female death metal vocals from hell!
This CD is NOT the band's 2nd album, but an exclusive release that features 7 songs (6 new and original Howling songs and 1 cover song from a classic 80's metal band) and has an incredible full color hand painted cover from up and coming underground artist, Mario Lopez. A total throat-ripping HOWLING-metal experience!
Media mail shipping in the USA only.