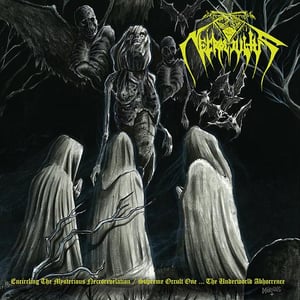 $

10.00
Out NOW on Razorback Recordings! The special re-issue of the incredible debut album from Mexico's NECROCCULTUS, "Encircling the Mysterious Necrorevelation"!
Originally released in 2005, this masterpiece of utterly dark, morbid, and cryptic Death Metal has been out of print for years. NECROCCULTUS are true old-school bastards who have been carrying the banner for pure Death Metal long before the current trend exploded! The re-issue includes the long out of print "Supreme Occult One...The Underworld Abhorrence" 7" EP as bonus tracks, as well as a very special cover song of the legendary Necrophobic. Features brand new and improved hand drawn old-school cover art by Mortuus!
Media mail shipping in the USA only.