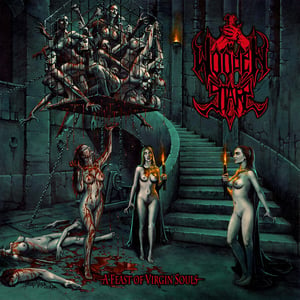 $

10.00
Out NOW from Razorback Records!
Wooden Stake are back from their moldy tomb with their long awaited 2nd full-length album, A Feast of Virgin Souls! A supernatural and unconventional tale about two female vampires versus a demonically possessed female butcher based off of the legend of Elizabeth Bathory.
Musically, the album offers up evil and heavy guitar riffs, bass, and slaying vocals of both the melodic and demonic kind. Over 40 minutes of dark DOOM/DEATH METAL with N.W.O.B.H.M. and King Diamond influences. You are guaranteed to get your ears impaled by Wooden Stake!
Media mail shipping in the USA only.